Tiara is a dancer living in the junk village of Outland, outside of Metro City. She is a good friend of Jake, Boon, and Munk, and acts as an older sister to Astro when he stays in Outland. Tiara appears exclusively in the episode "Lost In Outland" of the 2003 series.
Appearance
Tiara has frizzy brown hair, which she maintains in a short bob with gold ornaments on her bands. She wears a big pink bow around her neck, a powder pink cloak tied around her waist, and a purple leotard over a striped bodysuit with dark purple ballet shoes. She is very tall and thin.
Personality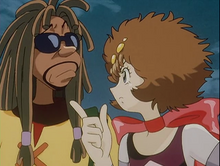 Tiara is elegant and stylish, making her own fashion with what she can find. She is an outgoing and level-headed member of Boon's group of friends. Tiara is especially closest with Jake, whom she calls "Jay-kun" in the Japanese dub. When Boon takes Astro under his wing, Tiara is impressed with Astro's powers and immediately welcomes him in to Outland's culture.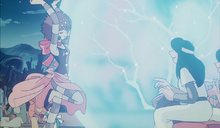 Tiara is one of the more popular villagers in Outland. She has grown up in the village, and can now be found working in the village's soup kitchen, or dancing at their public gatherings. Her dancing style is a mix of ballet and salsa, which she sets to whatever music the people of Outland can put together.
Ad blocker interference detected!
Wikia is a free-to-use site that makes money from advertising. We have a modified experience for viewers using ad blockers

Wikia is not accessible if you've made further modifications. Remove the custom ad blocker rule(s) and the page will load as expected.