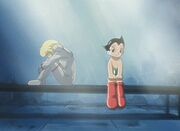 Tetsuwan Atom: Chikyuu Saigo no Hi (鉄腕アトム ~地球最後の日~): Astro Boy, helping Professor Ochinomizu with planetary exploration, discovers a trash star floating in space. On this star, robots that can no longer move have been thrown away stacked on top of each other. On this robot mountain, Astro saves a robot soldier, Bemu, that escaped from the verge of death and takes him back to Earth. "I'm tried of fighting!" "I feel the same." While Atom and Bemu are together, a warm friendship is born and goes on to deepen. However, one day, the trash star draws near to the Earth. If it hits, the Earth would have a huge explosion. The Earth is in chaos. As this happens, there is just one way to stop the crash into Earth. Only this is... What will Astro do. Will he be able to protect a peaceful Earth as well as his friendship with Bemu? A Tokyo Eki Biru, Entertainment Industry(Kyoto Tezuka Osamu World) and 300 Enchanter production, original animation. This aired in Japan in 2001. It runs for 16 minutes total.
Ad blocker interference detected!
Wikia is a free-to-use site that makes money from advertising. We have a modified experience for viewers using ad blockers

Wikia is not accessible if you've made further modifications. Remove the custom ad blocker rule(s) and the page will load as expected.