Little Astro Boy is a 2014 anime series produced by Tezuka Productions, aimed at a preschool audience. The series focuses on a 5-year-old Astro and his adventures with friends.
Series
Little Astro Boy ran for eight episodes, and was initially broadcast during the children's block of Nigerian station Channels TV. A simulcast ran on the channel's official Youtube.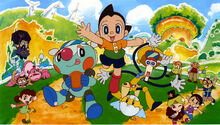 Astro Boy is a 5 year old robot boy, learning about the world around him from his robot parents, his mentor Dr. O'Shay, and his older human friends. He is an upbeat and positive child, but his abilities are envied by the mansion-dwelling criminal Hamegg. Hamegg enlists the help of his friends, the scientist Dr. Flau and the purple gorilla Gora, in schemes to outsmart, outdo, or even impress Astro and friends. In the end, Astro either succeeds against Hamegg or winds up working together with him.
The series subject matter was more jovial than previous Astro Boy series, and each episode contained a positive message for children. As well, the antics of Hamegg and his cohorts are far more silly and lighthearted than the villains of previous Astro Boy series. The show received positive feedback in Nigeria, but was not aired anywhere else.
Over a year after its initial broadcast, Little Astro Boy was released on a bilingual Region 2 DVD by Tezuka Productions on November 3, 2015.[1] The ending theme for the series, "Robot Boy, Beyond the Stars" by Moon.s, was released separately on Soundcloud.[2]
Characters
The only Osamu Tezuka characters to appear in the series are Astro,
Tamao
(renamed as Paul),
Higeoyaji
,
Dr. Ochanomizu
(renamed as Dr. O'Shay), Hamegg, and
Astro's robot parents
. An early promotional image shows
Kenichi
, but he was replaced with a new character named Ken, an athletic leader type boy. As well, Mitchy's original character design in the image shows her looking more like her Tezuka Star System design, but in the series, she was changed to have long purple hair in a side ponytail.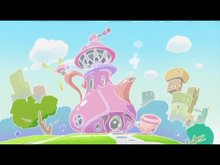 New characters were added to the series, mostly robots. These include Reggie the repairman robot,
Pikko
the floating teacher robot, Tack the overeating car robot, and
Gora
the gorilla robot.
The series takes place in a small hillside town where humans and robots live together. The setting is very colorful, with the habitual tea-drinking Dr. O'Shay living in a teapot-shaped house, and Hamegg living in a pig-shaped castle. Settings or machinery related to Hamegg are also pig-themed, relating to his name.
Cast
| Character | Japanese | English |
| --- | --- | --- |
| Atom/Astro | Rie Murakawa | Jen Cameron |
| Pikko | Yuuka Nakatsukasa | Chantal Strand |
| Reggie | Masami Kikuchi | Rogger Harris |
| Tac | Mayumi Yamaguchi | Ashley Alexander |
| Kinako | Ai Fukada | Shannon Chan Kent |
| Ken | Asami Tano | Erin Matthews |
| Mitchy | Chuna | Calyn Dorval |
| Paul | Yuka Terasaki | Erin Matthews |
| Hamegg | Riki Kitazawa | Cole Howard |
| Dr. Flau | Tsuyoshi Aoki | Charlie Bostio |
| Gora | Daisuke Egawa | Adam Fedyk |
| Pato | Kentaro Tone | Campbell McLoed |
| Joe | Katsuyuki Konishi | Campbell McLoed |
Episodes
See List Of Little Astro Boy Episodes
References