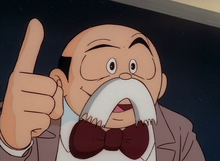 Higeoyaji is one of Tezukas oldest Stars from his Star System. His appears in both the anime and manga, but has the most prominent role in the 80s anime playing the role of Astros teacher.
Episodes appeared in
Episode 27. Old Dog, New Tricks
Episode 29. The Case of the Phantom Fowl
Episode 34. Shape Shifter
Episode 35. Phoenix (or Firebird)
Ad blocker interference detected!
Wikia is a free-to-use site that makes money from advertising. We have a modified experience for viewers using ad blockers

Wikia is not accessible if you've made further modifications. Remove the custom ad blocker rule(s) and the page will load as expected.