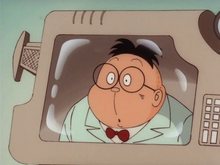 Dr. Ushiyama (牛山くん) is a robot scientist at the Ministry of Science, and was one of Dr. Tenma's colleagues. His Japanese voice actor is Kenichi Ogata, and his English voice actor is Jay Rath.
Personality
Dr. Ushiyama is a good friend of Dr. Tenma and Ms. Honda. He is a very dramatic and goofy man, and is younger than both Tenma and Honda. He is most known for the scene in which Tenma gives orders to construct a boy robot, to which Uchiyama tells the other researchers, "After all, this is a kid's show, isn't it?"
Story
Ushiyama is a member of Tenma's robotics team, overseeing the various stages of Tenma's robot. He is very supportive of the project's development into a child robot. However, he and Honda become uncomfortable with how powerful and weaponized the Tobio project turns out to be. He and Honda are the only witnesses to the birth of robot Tobio.
When Tobio wanders autonomously into town, Tenma calls Ushiyama for help alongside Honda. Ushiyama and Honda attempt to capture Tobio, but the group becomes indecisive of how to handle him. They accidentally overload the tank and are forced to bail out. Ushiyama survives the tank crash, but is not seen working at the Ministry of Science throughout the rest of the series.
Ad blocker interference detected!
Wikia is a free-to-use site that makes money from advertising. We have a modified experience for viewers using ad blockers

Wikia is not accessible if you've made further modifications. Remove the custom ad blocker rule(s) and the page will load as expected.