Dr. Emil is a robot scientist from Switzerland. He created Denkou and regards them as his greatest creation. He has a large laboratory, located in the Swiss mountains, with numerous other researchers and lab assistants. He only appears in the 2003 series, in episodes 4 and 48. Not much else is known about him, other than how he is very polite and intelligent.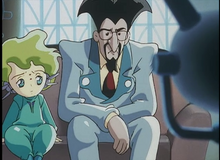 Six months before the current timeline, Denkou was stolen from Dr. Emil's lab by Skunk Kusai. He was only able to find them again after Astro found Denkou and intervened. In episode 48, he is briefly seen watching Astro's speech on TV at home with with Denkou, implying that he is now raising them as his own child.
Ad blocker interference detected!
Wikia is a free-to-use site that makes money from advertising. We have a modified experience for viewers using ad blockers

Wikia is not accessible if you've made further modifications. Remove the custom ad blocker rule(s) and the page will load as expected.