Atom: The Beginning is a prequel manga, taking place about 30 years before the Astro Boy series timeline. It began serialization in 2014 in Monthly Heroes Magazine. It is written and drawn by Tetsuro Kasahara, with additional writing by Masami Yuuki and consultation by Macoto Tezuka.
Publishing
Atom: The Beginning began serialization in Monthly Heroes Magazine in November 2014. Since then, three collected volumes have been published in Japan, and a French version has began printing in France and Belgium.
Plot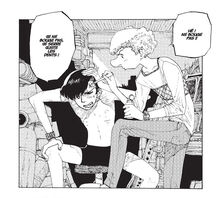 Several years before, there were a series of violent accidents in Tokyo with mysterious earthquakes and fires. These cases have been attributed to robots in some way but still remain unsolved.
In the present, Umataro Tenma and Hiroshi Ochanomizu are university students attempting to make a humanoid robot. Their shared project is the gold and black android A106, who they nickname Six. Tenma and Ochanomizu's theories of a robot that can think and feel like a human are dismissed by potential investors, so the two have to take on part time work and odd jobs to fund their research.
The young men attempt to experiment with A106's emotional capabilities through different experiences, including meeting more primitive robots and entering him into a robot gladiator competition. Along the way, they try to discover more about the strange series of accidents many years ago, but find themselves the targets of a strange and dangerous criminal underworld.
Characters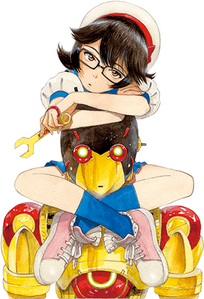 Ad blocker interference detected!
Wikia is a free-to-use site that makes money from advertising. We have a modified experience for viewers using ad blockers

Wikia is not accessible if you've made further modifications. Remove the custom ad blocker rule(s) and the page will load as expected.