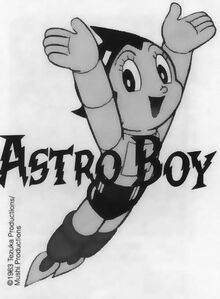 Astro Boy (鉄腕アトム Tetsuwan Atomu?, "Mighty Atom", lit. "Iron Arm Atom"). is a Japanese animated television series produced by Mushi Productions and based off of the Tetsuwan Atom manga by Osamu Tezuka. It would become the first serialized animation to air on television in Japan it aired on January 1, 1963 on Fuji TV, the series would also become the first Japanese animated series aired in the United States.
Production
Plot
In the year 2003, Tobio Tenma is traveling down the electric highway 66. A highway claimed to be the safest made by man when suddenly Tobio collides with an oncoming vehicle and is killed instantly. When his father Doctor Umataro Tenma discovers his body he instantly becomes distraught and slowly begins to go insane.
Dr. Tenma becomes obsessed with a new project to build a robot in the image of his deceased son. He shifts all focuses at the Institute of Science to the production of this new robot. After one year Tenma's robot project is a success and he gives life to a new robot and names him Astro Boy.
Tenma attempts to make the new robot boy a son of his own, he teaches him to eat and perform arithmetic he continued to teach him everything that would make him similar to a real boy. Tenma discovered that even though Astro had achieved everything he wanted of him, he still wouldn't grow like a real living boy this made the irrational Tenma so angry that he sold Astro Boy away to Hamegg's Robot Circus.
Characters
Episodes
Transition To English
Osamu Tezuka was flown to NBC headquarters to negotiate a licensing deal with NBC.
NBC's dubbed animation specialist Fred Ladd was tasked to produce the episodes and on September 7, 1963. The show was an instant hit taking 40% in the ratings. Overall 104 episodes were syndicated on the original NBC run and broadcast would end on August 20, 1965.
Reception and Legacy
Gallery
Trivia
References
== External Links ==
Ad blocker interference detected!
Wikia is a free-to-use site that makes money from advertising. We have a modified experience for viewers using ad blockers

Wikia is not accessible if you've made further modifications. Remove the custom ad blocker rule(s) and the page will load as expected.