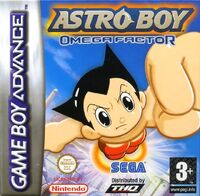 Astro Boy: Omega Factor is a video game for the GameBoy Advance handheld video game console, developed by Treasure and Hitmaker. It stars Astro in a plot lifted from several Astro Boy iterations. The action takes place as a horizontally scrolling shooter, with Astro Boy facing an onslaught of robotic enemies using the various weaponry at his disposal.
Trivia:
The game was originally called "Astro Boy Tetsuwan Atom: Heart no Himitsu" (Astro Boy Tetsuwan Atom: The Heart's Secret".

The western title is misleading, since Omega Factor is actually a hazardous device which gives an evil mind to a robot or even deprive it from its mind.

Kokoro was renamed to Omega Factor, despite the fact Omega Factor is the opposite in the series actual canon.
External links
Ad blocker interference detected!
Wikia is a free-to-use site that makes money from advertising. We have a modified experience for viewers using ad blockers

Wikia is not accessible if you've made further modifications. Remove the custom ad blocker rule(s) and the page will load as expected.